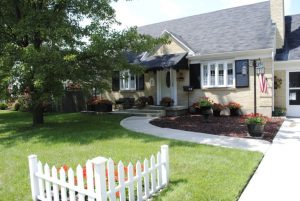 The Neighborhood Pride Program enters its 32nd year in 2020! Over the years, it has become a treasured award for Kettering residents. The Neighborhood Pride Program honors residents who have made significant improvements to their homes or who have maintained their properties impeccably every year.
Kettering is a great place to call home! Attractive and healthy neighborhoods improve property values and maintain a strong demand for housing in Kettering.
A well-kept neighborhood says that residents take pride in their community. With pride comes value, beauty and a great image for our City.
In our last survey, 97 percent of Kettering residents said they are very satisfied with their neighborhoods as a place to live. There are many things to be proud of in our City - our citizens, our schools, our community spirit and of course our neighborhoods. By nominating someone for the Neighborhood Pride Award, you encourage our residents to keep Kettering the place everyone wants to live.
Applications for the 2020 Neighborhood Pride Award have been accepted and recorded. Thank you for your nominations this year! Please visit back in May to nominate for the 2021 Neighborhood Pride Award!
Many properties are nominated by friends and neighbors, and you may nominate your own property as well. Each year, the program receives about 500 nominations with only 38 properties receiving the award.
Nominations can be made each year starting in May and continuing through August 1. Winners are selected each month June through August. All Neighborhood Pride Award winners are publicly recognized at a City Council meeting, and an attractive sign is placed in their front yard for three weeks, to let everyone know of their honor.
For more information:
Call the Volunteer Office at (937) 296-2433
Email the Volunteer Office