Neighborhood Block Parties
Having a block party is a terrific way to meet or get acquainted with your neighbors, build a sense of neighborhood pride, and celebrate holidays. The City of Kettering does allow block parties on selected residential streets.  Having a block party is just the kind of event that makes Kettering a great place to live.
You can submit a block party application to the Engineering Department for review.  If it is approved, the Engineering Department will properly notify the Street, Fire, and Police Departments of all block party street closures.  One day before the scheduled Block Party, the City's Street Department will deliver barricades to a designated location for set up the next day by the resident.
Please print and complete the Block Party Request form. The form should be mailed or dropped off to the Engineering Department at the Kettering Government Center, 3600 Shroyer Road, Kettering, OH  45429.  Please have Block Party Request forms submitted at least 2 weeks before the planned event to allow the Traffic Engineer time to review the application for selected residential streets.  Please call 296-2436 for questions regarding the block party request form.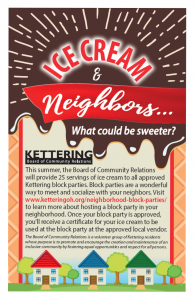 Fire Department and Police Department outreach programs may be scheduled through the community relation departments for each department..
Kettering Fire Department- Community Relations 296-2489
Kettering Police Department- Community Relations 296- 2567
This summer, the Board of Community Relations will provide 25 servings of ice cream to all approved Kettering block parties. Once your block party is approved, you'll receive a certificate for your block party ice cream. A local vendor will provide the ice cream after you call and make a reservation and date to pick it up. The Board of Community Relations is a volunteer group of Kettering residents whose purpose is to promote and encourage the creation and maintenance of an inclusive community by fostering equal opportunities and respect for all persons.