Kettering Leadership Academy Graduates
As a graduate of the program, you will help form a foundation of people who are uniquely qualified for the responsibilities of future community leadership.
"Everyone can be great because anyone can serve. You do not have to have a college degree to serve. You do not even have to make your subject and verb agree to serve…You only need a heart full of grace, a soul generated by love." – Martin Luther King, Jr.
Class of 2019: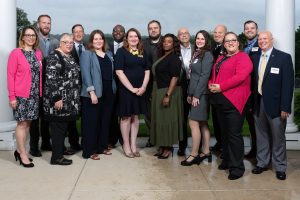 Nick Andrews, Heapy Engineering
David Bogle, Saint Charles Borromeo Parish
Maggie Burk, L Brands
Josie Burns, Kettering College
Jonelle Carroll, Kettering City Schools/ City of Kettering
Kerry Corthell, Fifth Third Bank
Lisa Duvall, Edict Systems, Inc.
Chris Evans, Kettering Police Department
Richard Honneywell, Ohio Department of Transportation
Mike Nesbella, WilmerHale
Carrie Remhof, WilmerHale
Mitch Robbins, Kettering Fire Department
Art Santoianni, University of Dayton
Shannon Wright, Moraine Country Club
Chris Wright, Christ United Methodist
Class of 2018:
Jasmine Allen-Stone, Kettering Municipal Court
Jay Borchers, Kettering City Schools
Frank Ecklar, Greater Dayton Regional Transit Authority
Diane Hansbury, Heapy Engineering
Nick Henson, Kettering Medical Center/Kettering College
Alex Ignatiou, Kettering Arts Council
Jessica Mancz, University of Dayton Research Institute
Sarah Miller, L Brands
Jason Moore, Riegel Financial Group – (Sponsored by Dor-Wood Optimist Club)
Steve Rudisill, Christ United Methodist Church
John Sliemers, City of Kettering
Kimberly Vinegar, WilmerHale
James Webster, Chief Screen Printing
Class of 2017:
Michael Bailey, WilmerHale
Kyle Bassford, WilmerHale
Mark Burian, City of Kettering Police Dept.
Tricia Connolly, Day Air Credit Union
Ryan Davis, City of Kettering
Robert Hoffman, Kettering Municipal Court
Mallory Lynn, L Brands
Gwen Owen, Dayton Metro Library
Tara Poteet, Montgomery County Prosecutor's Office
William Samson, Heapy Engineering
Ryan Sheets, Kettering City Schools
Glenda Wilkins, Christ United Methodist Church
Class of 2016:
Julie Burk, L Brands
Denny Burton,  Heapy Engineering
Rob Jahn, Robert Jahn General Contractor (Sponsored by Dor-Wood Optimists)
Emily Myers, Freelance Graphic Designer
Jennifer Nagel, Sponsored by Kettering Rotary Club
Kay Phillips, WilmerHale
Chip Protsman, City of Kettering
Daniel Reeves, P&R Communications
Kim Smith, WilmerHale
Brent Strayer, Anytime Fitness
Kaitlin Swift, Chamber of Commerce
Bill Toth, First Financial Bank
Michelle S. Wierzbanowski, D.D.S., Contrails Independent Consulting
Dawn Wyatt, Town & Country Shopping Center
Class of 2015:
Darla Baker, Kettering Medical Center
Christy Bombatch, Orange Leaf Frozen Yogurt
Michael Brandt, Kineteca
Patricia Crisp, Christ United Methodist Church
Frederick Dressel, Kettering Municipal Court
Patrice Kennard, WilmerHale
Stephen Luzader, Christ United Methodist Church
Walter Osborne, WilmerHale
Craig Rohren, Heapy Engineering
Shane Sullivan, Kettering City Schools
Maria Waldren, L Brands
Andrew White, Kettering City Schools
Justin Wiedle, City of Kettering
Class of 2014:
Marieta Bingatati, WilmerHale
Nathan Cole, Christ United Methodist Church
Jonathan Coyle, Heapy Engineering
Robert Erhart, Dept. of Air Force, WPAFB
Phil Hacker, Kettering City Schools
Summer Hawks, WilmerHale
Abbey Klenke, L Brands
Nicole Marshall, Kettering City Schools
Molly McGinnis, Town & Country Shopping Center
Drew Miller, City of Kettering
Sally Sterzer, Kettering Medical Center
Missy Mae Walters, Rotary Club of Kettering
Dianna Wilcox, L Brands
Joseph Willen, Dor-Wood Optimists
Class of 2013:
James Berlon, Farmers Insurance, Berlon Insurance Group, Sponsored by Dor-Wood Optimists
Miriam Cartmell, Kettering Medical Center
Thomas Condron, WPAFB
David Duritsch, City of Kettering
Barbara Emrick, Kettering Medical Center
Lauren Gentry, Christ United Methodist Church
Heather Gorby, Sterling Jewelers (Kay Jewelers)
Matthew Graham, Heapy Engineering
Stefanie Little, L Brands
Jennifer Mamula, Kettering Noon Optimists
Rebecca Owen, WilmerHale
Jessie Rindler, Kettering City Schools
Ashley Schiffer, CHOICES, Inc.
Ginger Vaughn, L Brands
Class of 2012:
Nancy Bernotaitis, Town & Country Shopping Center
Jenny Borchers, Kettering City Schools/Fairmont High School
Michael Brendal, Kettering Health Network
Matthew Burt, L Brands
Pat Cavanaugh, The Greentree Group
Tom Ernst, Ernst and Rogers, LLC
Yolanda Evers, Heapy Engineerng
Rob Leonard, Sinclair Community College
Sara Mills, City of Kettering
Robert Montavon, Self-Employed
Kate Smith, Christ United Methodist Church
Bill Williams, WilmerHale
Class of 2011:
Sarah Adams, Kettering City Schools
Mark Damschroder, Christ United Methodist Church
Jeremy Fauber, Heapy Engineering
Chad Ingle, City of Kettering
Lauren Mehling, Cheryl & Co.
Jason Parker, Kettering Health Network
Michael Phares, L Brands
Sharon Powell, Deceased
Diana Robinson, Sycamore Hospital
Mary Sanders, CDO Technologies
Frank Spolrich, Dor-Wood Optimists
Class of 2010:
Brian Arbogast, Heapy Engineering
Nancy Byrd, Christ United Methodist Church
Sarah Fathergill, University of Dayton
Joan Fisher-Hatton, Kettering Medical Center
Tom Glardon, City of Kettering
Brian Hager, USAF WPAFB
Jamie Jarosik, WDTN-TV
Lisa Laudahn, Kettering Medical Center
Bill Lautar, Lebanon City Schools
Tracey Nissen, Kettering City Schools
Chris Roderer, Roderer Shoe Center
Class of 2009:
Tony Alexander, Jenks, Pyper & Oxley Co., LPA
Steven Bergstresser, City of Kettering
Peter Callahan, Community Volunteer
Nick Fathergill, LJB Inc.
Carrie Hauser, KMO Chamber of Commerce
Kyle Hoener, Shore To Shore Inc.
Jack Omer, Brookdale Senior Living
Courtney Schaeublin, FlexBank Administrators, Inc.
Mark Schweikhart, Standard Register
Coston Smith, WPAFB
Donald Timmer, Heapy Engineernig
Class of 2008:
Jeffrey Braun, WPAFB
Angela Brown, City of Kettering
Brian Donovan, WPAFB
Donald Engle, Heapy Engineerng
Mary Beth Gibson, Christ United Methodist Church
Carrie Laspe, McGohan Brabender
Debbie LeValley, Kettering City Schools
Shannon McMorris, Kettering Health Network
Laura Patzer, Reynolds & Reynolds Co.
Emily Roderer, Roderer Shoes
Charley Schuerholz, Schuerholz Printing
Class of 2007:
Pamela Cochran, Town & Country Shopping Center
Larry Cotterman, Heapy Engineering
Debra Egloff, Christ United Methodist Church
Jacqueline Fisher, WPAFB
Gregg Gorsuch, City of Kettering
Erica Knisely, Limited Logistics Services, Limited Brands
Sue Ly, Promotion Execution Partners, LLC
Larry McVey, Self-Employed
Christopher Neary, Montgomery County
Cheryl Shimmin, Kettering Health Network
Dan Von Handorf, Kettering City Schools
Erika Whiting, Heartland Federal Credit Union
Class of 2006:
Laura Arber, Dayton OB-GYN
Amy Berlean, City of Kettering
Jason DeDario, Kettering Fire Dept., Fayette Recycling Inc.
Sondra Estevez, L Brands
Jim Gaton, Kettering Health Network
Lois Hart, NCR Country Club
Amy Hoeffel, Kettering Health Network
Mark Hufnagle, L Brands
Chris Kaylor, Heapy Engineering
Megan Miller, LJB Inc.
Kyle Ramey, Kettering City Schools
Richard Valentine, Fifth Third Bank
Class of 2005:
Timothy Allison, Kroger Company
Wayne Botkin, Christ United Methodist Church
Pamela Caffrey, John Poe Architects
Steve Clark, Kettering City Schools
Yolanda Clemons, NCR
Bert Cream, Cogent Consulting/Dayton Development Coalition
Carrie Jane Guarasci, Kettering Health Network
Claudine Heizer, City of Kettering
Lori Pederoncelli, LiveOps, Inc.
Timothy Reiger, McGohan Brabender
Ann-Lisa Rucker, KMO Chamber of Commerce
Richard Simpkins, Woolpert
Nancy Slezak, GE Money
Bryan Suddith, Kids Voting Dayton Region
Ashley Webb, CDC Distributors, Inc.
Class of 2004:
Deborah Allen, City of Kettering Volunteer
Stoney Brooks, Kettering City Schools
Alec Carnes, Sr., Heapy Engineering
James Cash, Deceased
Manuel Diggs, L Brands
Celeste Hoegler, Dayton Progress Corp.
Kenneth Lackey, Kettering City Schools
John Parent, Christ United Methodist Church
Kenneth Ross, DEW Technologies
Stacy Schweikhart, City of Kettering
William Tschirhart, City of Kettering
Bernard Wannamaker, Deceased
Terry Welker, City of Kettering