Mayor's Award
The Mayor's Award for Volunteer Service honors outstanding volunteers who are making valuable contributions to the community through volunteer service in a wide variety of categories such as health, recreation, arts, environment, education, public safety, civic service, or human service. Recipients of this award must either be a resident of Kettering, or the volunteer service must be performed in Kettering. The volunteer activity can be in a structured setting or on an informal basis.
At an April City Council meeting, these three very deserving volunteers were presented The Mayor's Award for Volunteer Service  during  National Volunteer Appreciation Week.
Meet our 2017 Mayor's Award Winners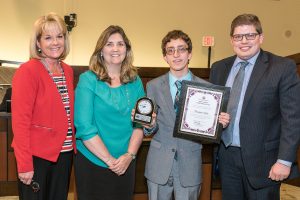 Theodore Hale is a junior at Kettering Fairmont High School. He is the son of Joe and Jennifer Hale. He has one older brother, Samuel. Theodore volunteers at Fairmont in many different capacities. He donates at least 150 hours annually by helping with clerical duties during school in the Main Office and after school in Central Unit.
Theodore also volunteers during the summer by tending Fairmont's Unity Garden. Early in the school year, he voluntarily organizes the "Hallway Harvest" in which the produce from the garden is prepared as a feast for the Board of Education and staff members. He also helps with the school's Holiday at Home float.
Theodore's service is not limited to Fairmont High School. He also volunteered as a companion to an older gentleman recovering from cancer. He assisted him on bikes rides to help ensure his safety and to help him regain his strength. He also spent nearly 120 hours making phone calls, canvassing and registering voters for our 2016 presidential election.
In addition to his many service activities, Theodore won the State Championship in the 25 meter breast stroke in the Special Olympics. He will also be inducted into the National Honor Society. His nominator stated, "Theodore excels academically and is widely respected for being a hardworking young man and applauded for his willingness to take leadership roles and responsibilities with cheerfulness, dedication and passion for helping people."
Theodore's actions truly serve as a model for not only the youth in our community, but to all community members. The world is a better place because of your actions.  Congratulations, Theodore!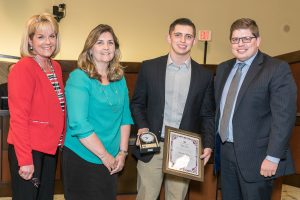 Damian Foster is a graduate of Kettering Fairmont High School. He is currently attending Sinclair Community College where he is studying Fire Science. He is the son of Jeremy and Nicole Foster. He has two sisters, Lillian and Vivian.
While attending school at Fairmont, Damian served as an office assistant for three years. During that time, he began helping one of the Fairmont Industries students, Patrick. Patrick suffers from a progressive neurological disease. As this disease progresses, Damian stays by Patrick's side every step of the way. While playing football, going to school, and working part-time, Damian still found time to assist Patrick. He also attended Buddy System Nights which are designed to encourage social interaction with Fairmont Industries students.
After graduation in 2016, Damian came back to Fairmont nearly every school day to help Patrick first thing in the morning. In March, Patrick turned 22 and graduated from Fairmont's program. Damian has already made several trips to visit Patrick and his mom.
As stated by his nominators, "Damian is an exemplary young man and I feel privileged to know him. I am a few decades older than he is, yet he's taught me so much about human kindness. It is humbling to see a young adult give so much of his time unselfishly."
Damian is a true example of the powerful impact volunteers can have in our community. His desire to help people will serve us all well as he continues his studies to become a firefighter. Congratulations, Damian. You truly deserve the Mayor's Award for Volunteer Service and we thank you for enriching the lives of those around you.
Recommendations for the Mayor's Award for Youth (or Adult) Volunteer Service are always accepted. Nominate someone by using the forms below.