Mayor's Award
The Mayor's Award for Volunteer Service honors outstanding volunteers who are making valuable contributions to the community through volunteer service in a wide variety of categories such as health, recreation, arts, environment, education, public safety, civic service, or human service. Recipients of this award must either be a resident of Kettering, or the volunteer service must be performed in Kettering. The volunteer activity can be in a structured setting or on an informal basis.
At an April City Council meeting, these three very deserving volunteers were presented The Mayor's Award for Volunteer Service  during  National Volunteer Appreciation Week.
Meet our 2018 Mayor's Award Winners
Mayor's Award for Youth Volunteer Service –
Lauren Dalton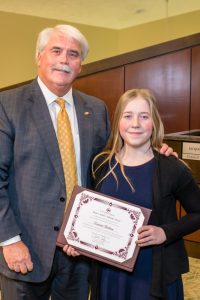 Lauren Dalton is the daughter of Jeffrey and Angie Dalton, and a big sister to Leah.  She attended St. Albert Elementary School and is now a senior at Dayton Regional Stem School.  Lauren has a long history of volunteering in Kettering and the Greater Dayton area.
Lauren has been a competitive gymnast for over 10 years at the YMCA where she trains year round.  She volunteers 5 hours each week at the South YMCA instructing young children in the sport of gymnastics.  If a child has special needs, Lauren is ready with an adaptive movement and words of encouragement.  Lauren's volunteer efforts help instruct an additional 100 children each week.
Lauren has been active in Girl Scouts since Kindergarten, having earned both the Bronze and Silver Awards.  She's volunteered two summers
at Girl Scout camp, and she's volunteered three summers with preschool camp at Boonshoft Museum.
In addition, she is the President of Student Council, a valued member of National Honor Society, Kiwanis Club, and the Junior Council on World Affairs.  She devotes numerous hours to all of these service clubs, helping those less fortunate.
Lauren's nominator states, "Lauren is hardworking, caring, compassionate and a problem solver.  She is committed to giving back to her community.  She is determined to make a positive difference in children's lives by volunteering her time to activities that shape one's character and, in turn, one's future.
Congratulations, Lauren!
Mayor's Award for Volunteer Service (Adult) –
Sue Ellen Boesch (pronounced Besh)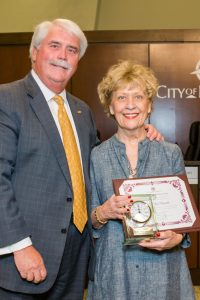 Kettering resident Sue Ellen Boesch has lived in Kettering with her husband Jack for over twenty years.  Her passion for Kettering is evidenced by her commitment to volunteering with various projects and programs, including nearly ten years on the Kettering Arts Council, several years on the Parks, Recreation & Cultural Arts Program Advisory Committee and most recently, the Parks Foundation.  She also serves on the Advisory Committee of the University of Dayton Libraries.
Sue Ellen works tirelessly to make the arts accessible to the greater public. She helped launch an initiative to make Art on the Commons one of the largest one-day fine arts festivals in the Miami Valley.  Through this initiative, Sue Ellen worked to create a special annual event to recognize Art on the Commons artists and volunteers.  This very successful event not only shows appreciation for those involved, but it also demonstrates that Kettering is a top-notch destination for the arts.  Sue Ellen volunteers regularly for City events, including the Kettering Community Block Party, and marching in the Holiday at Home Parade to draw awareness to the arts.  Her can-do spirit makes her a highly esteemed member of the Kettering Arts Council and a pillar in the community for arts advocacy and the amenities that Kettering has to offer.
As stated by her nominator, "Sue Ellen's love of Kettering transfers to everyone encounters, including visiting artists from across the country, and the people she encounters on a daily basis.  Her work as a volunteer has brought in many new volunteers and her enthusiasm keeps energy levels high.  She is a remarkable volunteer and a loyal Kettering resident."
Congratulations, Sue Ellen!
Recommendations for the Mayor's Award for Youth (or Adult) Volunteer Service are always accepted. Nominate someone by using the forms below.