Benefits of Volunteering
There are many benefits to volunteering for the City of Kettering. Here are some of the benefits as cited by our Volunteer Kettering participants:
• Gain job experience and secure a job reference
• Learn new skills
• Explore a new career
• Get involved in the community
• Learn about City government
• Stay active by helping others
• Meet new people and make new friends
• Stay active in your profession after retirement
• Participate in an activity with a friend, spouse or partner
• Work a flexible schedule
• Choose from a variety of opportunities
• Fulfill a desire to contribute
• Have fun!
Additional benefits for volunteers include:
Newsletters  – All volunteers receive a quarterly newsletter containing information on current volunteer opportunities and upcoming events.
Activities – All volunteers are represented on the Kettering Employee Council and are invited to attend Employee Council sponsored events. Events include the annual Kettering Employee Picnic and other activities throughout the year.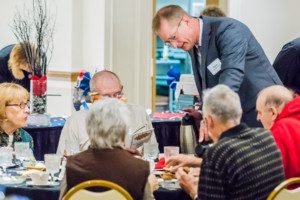 Volunteer Recognition – Twice a year, the City honors those involved in the volunteer program. Every spring volunteers along with their families and friends are invited to attend the Community Block Party at Fraze Pavilion.  This is a free event featuring musical entertainment, hot dogs, chips, refreshments and fun for the entire community. All volunteers receive a coupon for a free gift to be redeemed at the Volunteer Booth.
In the fall, a Volunteer Recognition Lunch is held for volunteers and their staff supervisors. At the luncheon, the Mayor presents volunteers with awards based on cumulative hours contributed.
Fitness Incentive Program – Once you have completed 100 hours of volunteer service, you're eligible for certain discounts through the City's fitness incentive program. Volunteers should contact the Volunteer Office to be issued a letter of eligibility.
Free First Aid/CPR Classes - All registered volunteers with the City of Kettering are invited to complete a free First Aid/CPR class. Volunteers should contact the Volunteer Office to sign up for a class.
If you are interested, please select the volunteer application link below: