Marshall Road Improvements
The City of Kettering proposes to improve Marshall Rd from Wilmington Pike to East David Road.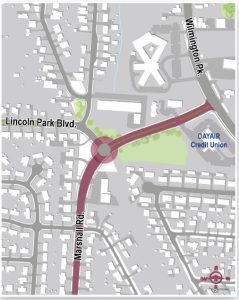 Proposed improvements in 2026.  Construction will include:
Resurfacing Marshall Road from Wilmington Pike to East David Road
Construction of an 11-foot wide sidewalk along the south side of Marshall Road from Wilmington Pike to Lincoln Park Blvd, and along the north side of Lincoln Park Blvd from Marshall to North Marshall Road
Modifying the Intersection at Marshall and Lincoln Park to improve safety and better accommodate pedestrians and bicyclists
Upgrading curb ramps to meet American with Disabilities Act (ADA)
Repairing/replacing deteriorated curb and drive approaches, as needed
Project Timeline
A final decision regarding the preferred alternative is expected in early 2024.  Right-of-Way acquisition, based on the selected alternative, is expected to begin mid-2024.  Under the current schedule, construction is expected to begin in 2026.
Project Purpose
The purposes of this project include:
Resurfacing and remarking deteriorated pavement on Marshall Road
Improving safety at the Marshall Road and Lincoln Park intersection
Improving active transportation options in this area of Kettering by making safer corridors and connections for cyclist and pedestrians
Project Cost and Funding
The current estimated project cost, including both right-of-way acquisition and construction, is approximately $2.3 million dollars, costing the City $1.3 million dollars after federal funding.  Additional grant funding will be sought to reduce the City's cost for the project.
Roundabouts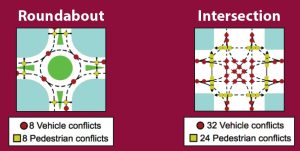 The City of Kettering is considering a roundabout at Marshall Road and Lincoln Park Blvd. Roundabouts have many safety benefits, including:
Reducing the number of conflict points for both drivers and pedestrians
Creating a low speed environment at the intersection, reducing the likelihood of high speed crashes
Preventing high-angle crashes such as "T-bone" and left turn crashes.  Lower angle, low speed crashes tend to be less severe
Experiencing fewer and less severe crashes than traffic signals
Promoting continuous and efficient operations, with fewer stops, fewer hard accelerations and reduced delays for left turns
Additional information is available from the Federal Highway Administration at www.safety.fhwa.dot.gov/intersection/innovative/roundabouts
Roundabouts help reduce traffic speeds and noise levels
More information about this project can be found in the project flyer.
Submit Your Comments
Email, mail or, call one of the individuals listed below by December 31, 2023
Contact Information:
City of Kettering, Engineering Department
3600 Shroyer Road
Kettering, OH 45429
Chad Ingle, Project Engineer 937-296-2436 or chad.ingle@ketteringoh.org
ODOT District 7
1001 St. Marys Ave
Sidney, OH 45365
Tricia Bishop, D7 Environmental Coordinator 937-497-6721 or tricia.bishop@dot.ohio.gov