Curb, Sidewalk and Drive Approach Repair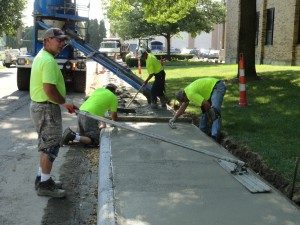 Homeowner's Responsibility
As with most communities, Kettering property owners are responsible for the sidewalk, curbs and drive approaches abutting their properties. In Ohio, state law provides for this practice on the premise that property owners get the most benefit from these items because they are available for their use, and it enhances the value of their property.
About the Program
Sidewalk, curb and drive approach repair is a vital part of neighborhood pride, as well as overall community spirit. The program calls for a different section of the City to be inspected and appropriately maintained each year.  The goal is to cover every area of the city within a 20 to 25 year period. Each year, the City's Engineering Department conducts a sidewalk and curb repair program.
How it Works
City Engineering Department inspectors review sidewalks, curbs and drive approaches and mark the sections that must be replaced with white paint. The criteria for replacement or repair was established by City Council. After the marking is completed, an explanation of the markings, a copy of the required work, an estimated cost and the options for completing the work are sent to the affected property owners.
Options for Repair
The property owner may hire a contractor. The contractor must obtain a right-of-way construction permit to replace the sidewalk, drive approach and/or curbs. The contractor has 30 days from the time the permit is issued to complete the work. The contractor must post a performance bond which will remain on file with the City for a period of 12 months. The contractor must also provide proof of insurance, listing the City of Kettering as an additional insured. The work must also have a final inspection from the City inspector. You may contact the Engineering Department at 937-296-2436 to check on contractor's bond and insurance status.
The contractor the City hires may complete the work.  In the spring of the year the work is to be performed, the resident receives a letter stating the estimated cost. The City pays the contractor for the actual cost of the work. Once the work is completed and a final letter is sent to the property owners, the property owner may either pay cash to the City for the work or have the actual cost plus interest, and a County collection fee assessed to their property taxes.
Questions
Any property owner that has questions about the program should contact the Engineering Department at 937-296-2436, Monday through Friday, 8:00 a.m.to 5:00 p.m. or at KetteringEngineering@ketteringoh.org