Department Recognitions
Firefighter of the Year
The Firefigh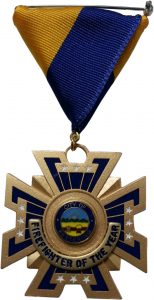 ter of the Year is awarded to the firefighter that exemplifies the true meaning of commitment and pride in the organization for the current year. This award process begins in the fall, and nominations for the award may be submitted from any rank within the organization. At the end of each year, the nominations are evaluated for merit by the department's Award Committee which is made up of 4-5 individuals of varying rank and organizational responsibilities. The committee reviews each candidate and makes recommendations to the Fire Chief for final approval.

2018 Firefighter of the Year: FF/Paramedic Pete Burcham
Firefighter/Paramedic Pete Burcham began his career with the Kettering Fire Department as a volunteer firefighter from 2005 to 2009. He then served 2 years as a career firefighter for Springdale Fire Department before returning to Kettering as a full-time career firefighter in 2011.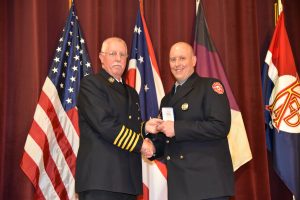 FF/P Burcham is a Fire and EMS Instructor, a member of the EMS Bike Team, and also has
served as the Fire Local Union President since 2017. He is also a member of the Region 3 Strike Team and an instructor for the Rescue Task Force.
In 2018, FF/P Burcham was instrumental in obtaining a grant which allowed the department to purchase state-of-the-art personal protective equipment for all of our members that will reduce exposure risks for cancer.
FF/P Burcham's hard work and dedication to this department and our community are greatly appreciated. He has earned the admiration and respect of our organization.
---
Fire HQ | 4745 Hempstead Station Drive | Kettering, Ohio 45429 | 937-296-2489