The Schantz Avenue Bridge over South Dixie Highway will undergo a complete replacement and the retaining wall along South Dixie Highway will be repaired and sealed. Construction is now underway. The project is expected to take 7 to 8 months.
Construction Details and Progress Updates 
Schantz Avenue is closed at the bridge. Access to South Dixie Highway is detoured using South Patterson Boulevard, Crauder Avenue, and Sacramento Avenue.  Two-way traffic on South Dixie Highway will be maintained, though, reduced from two lanes to one lane in each direction. Northbound traffic will not able to turn left at Mayo Avenue, Carrollton Avenue, Prosser Avenue, nor Calvary Drive. Drivers are encouraged to use alternative routes during peak traffic hours to avoid possible delays.
Schantz Ave Bridge Replacement Detour Map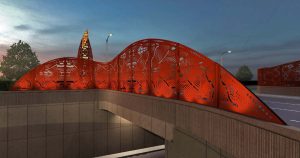 Rather than reconstructing another unremarkable concrete bridge structure with utilitarian chain-link fence, we collaborated with our CitySites Public Art Program to seek an artist who designed a one-of-a-kind public art installation.  The art will integrate seamlessly in to the new bridge and will create a signature entry feature for the City reflecting the artistry of the trolley cars which once traveled the Dixie corridor and the designs on the historic cash registers showcased at nearby Carillon Park.
Additional Information on CitySites Art
We appreciate your patience as Kettering invests in its transportation infrastructure.