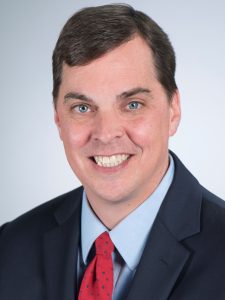 Kettering City Council is pleased to announce the selection of Matt Greeson to serve as Kettering's next city manager effective January 1, 2023. Mr. Greeson will start his service on December 12 in a transitionary capacity. He will succeed Kettering's sixth City Manager, Mark Schwieterman, who will continue his role through December 31, 2022.
Mr. Greeson emerged as the top candidate resulting from an extensive recruitment process. He has been serving the City of Worthington, Ohio, since 2007. He brings to Kettering over 26 years of local government experience with a strong record of forming partnerships, fostering fiscal stability and economic success, leading talented teams, and improving organizations and community quality of life. A resolution to approve Mr. Greeson's contract will be voted upon by City Council on Tuesday, October 11, at the regularly-scheduled meeting at 7:30 p.m., at 3600 Shroyer Road.
Mayor Peggy Lehner stated, "It is City Council's goal to ensure that Kettering's next city manager brings outstanding, proven leadership skills to the position to continue the level of service at which residents and businesses are accustomed. The needs and aspirations of our community are paramount, and our goal was to find the right candidate committed to continuing Kettering's strong tradition of collaboration, engagement and partnership. Conducting a national search allowed us to speak with a diverse group of candidates to ensure we chose the best fit for our community."
City Council began the nationwide search process with Slavin Management Consultants earlier this year in preparation for the departure of current City Manager Mark Schwieterman, who announced his intention to retire after more than three decades of public service with the City of Kettering. Kettering city managers include Ervin Welch 1954-1975; John Laney 1976-1979; Phil Hawkey 1980-1981; Robert Walker 1982-1990; Steven Husemann 1990-2006; and Mark Schwieterman currently serving since 2006.
Greeson says he is committed to upholding the expectations of excellence in Kettering ensuring that the City's exceptional employees maintain world-class services and amenities for residents, businesses and patrons. He is also committed to maintaining strong infrastructure and driving economic development in support of City Council's goals, as well as engaging with Kettering's residents, neighborhoods, businesses and other community stakeholders.
"Mr. Greeson succeeds six incredible leaders who have furthered the health and vitality of our city, and City Council is confident in his ability to enhance Kettering's vision and strategic framework through sustainability, connection and resiliency," said Mayor Lehner.
"I am honored that Kettering's Mayor and City Council are providing me the opportunity to serve as the City's seventh city manager," Mr. Greeson said. "Kettering is a vibrant and friendly city known for its safety, inclusivity, innovation, economic vitality and natural beauty. I am excited to work collaboratively with Council, City employees, residents and the business community as we advance the many important initiatives already underway, along with new possibilities. My family will soon call Kettering home, and with that comes a strong commitment to this community and a vested interest in providing the best quality of life and environment in which our residents and businesses can thrive."
Personally, Greeson stated he is excited to attend music events at Fraze Pavilion, watching games at Trent Arena, and enjoying the incredible parks, recreation and cultural arts facilities with his family. Professionally, he added that Kettering represents an ideal opportunity for collaboration and commitment to community building.
Greeson served the City of Worthington, Ohio, as city manager since 2007. Prior to his current position, Mr. Greeson served Volusia County, Florida, for 12 years where he rose to the position of Deputy County Manager. Mr. Greeson holds a Master in Public Administration from the University of Central Florida and a Bachelor of Arts in Political Science from Stetson University.
He is a member of the International City/County Management Association and the Ohio City/County Management Association. Greeson fosters rich professional relationships with many community, county and regional partners. He served as chair and vice chair of the Mid-Ohio Regional Planning Commission, inaugural chair of the Central Ohio Interoperable Radio System Board of Directors, Central Ohio Mayors and Managers Association, Dublin-Worthington Rotary Club and the Worthington CARES Coalition–a group aimed at reducing substance abuse and improving mental health among youth.
Greeson was one of four candidates interviewed by Council for the position.
Please contact Mayor Peggy Lehner for more information at 937-296-2416.
###