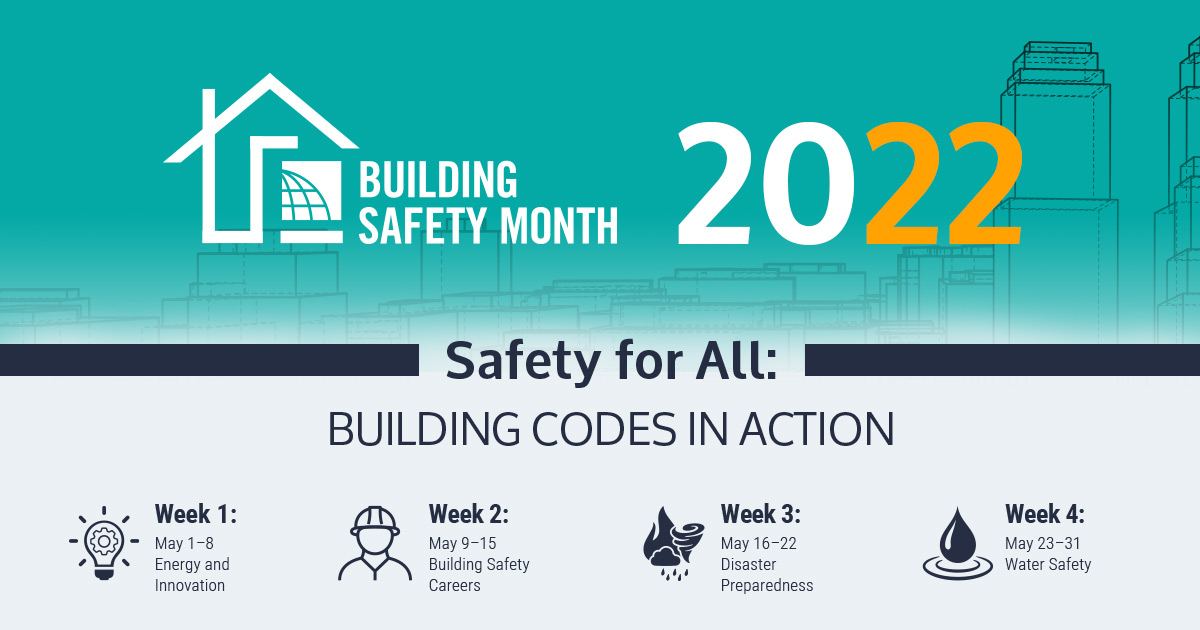 In May 2022, The City of Kettering Planning and Development Department will participate in the 42nd annual Building Safety Month which is a worldwide campaign presented by the International Code Council, its members and partners to promote building safety. This year's campaign, "Safety for All: Building Codes in Action", raises awareness about the importance of building codes to ensure safety within the spaces we live, work and learn.
Homes and buildings that are built in compliance with building safety codes and the officials who enforce the codes are essential to helping communities become affordable, resilient, as well as energy and water efficient. Building Safety Month provides homeowners, government officials and the public with the important information and resources to prepare and protect our built environment.
This year's weekly campaign themes include:  Week One, May 1-8, Planning for a Safe and Sustainable Tomorrow; Week Two, May 9-15, Exploring Careers in Building Safety; Week Three, May 16-22, Understanding Disaster Mitigation; and Week Four, May 23-31, Creating a Safe and Abundant Water Supply.
Local events to celebrate Building Safety Month will be held Tuesdays from 5:30 to 6:30 p.m., at Eudora Brewing Company located at 3022 Wilmington Pike, Kettering, OH 45429. Attendees may purchase food and drinks if desired. Weekly topics include:
May 3             Back to the Future: Making Places Sustainable
(Building places with materials and means to last)
May 10            Building Safety: Design and Construction Careers
(From architecture and engineering to skilled trades and public service)
May 17            Disaster Preparedness: Fortifying Our Buildings
(Withstanding the forces of nature)
May 24            Water World: Safety and Conservation
(Safe drinking water)
"Building codes and standards are the cornerstones of building safety for everyone including the owners, architects, engineers, contractors and, most importantly, the end users for generations to come," stated City of Kettering's Chief Building Official Terry Welker, FAIA.
With an extensive history dating back to 2200 B.C and the Code of the Hammurabi, king of the Babylonian Empire, building codes have protected the public for thousands of years.  Today, the International Codes, developed by the Code Council and adopted by the City of Kettering, are the most widely used and adopted set of building safety codes in the world.
Learn more about Building Safety Month at www.buildingsafetymonth.org and follow City of Kettering on Facebook and Twitter for updates and information throughout Building Safety Month.