Utility Companies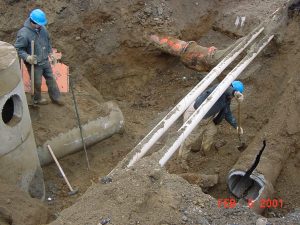 The City of Kettering has temporarily closed indoor facilities to the public until April 30, 2020 due to COVID-19. Though in-person visits are not permitted at this time, Engineering staff is still working. Please contact us at 9

37-296-2436

or

KetteringEngineering@ketteringoh.org

.
Inspections can be called into the office 24 hours in advanced.
The City manages the use of public rights of way based on Chapter 901 of the City's Codified Ordinances. Chapter 901 was revised, effective July 24, 2018.
Utility companies having a system within the public right of way are required to obtain and keep an up-to-date Certificate of Registration and a Minor Maintenance Permit with the City's Engineering Department. There is a yearly fee associated with these permits.
HOW DO I OBTAIN A RIGHT-OF-WAY PERMIT FOR UTILITY WORK?
Utility companies have a few extra steps that need to be taken in order to obtain a Right of Way Construction Permit for the City of Kettering.  Since you are applying on behalf of a utility company, you will need to submit a Construction Permit Application (CPA).
Submit the CPA to the City of Kettering Engineering Department located in the Kettering Government Center at 3600 Shoryer Road.  Our offices are open 8 a.m.- 5 p.m., weekdays, excluding holidays, OR you may apply online for a utility permit by going to Access Kettering.
All Construction activity that takes place in the City of Kettering right of way must follow the Ohio Manual of Uniform Traffic Control Devices (OMUTCD) for temporary traffic control in the roadway. View the OMUTCD
For questions, call 937-296-2436 or email at KetteringEngineering@ketteringoh.org