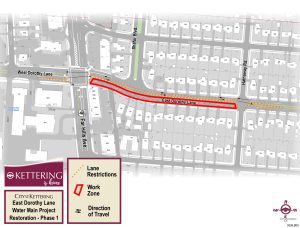 Beginning Monday, March 20, traffic will be impacted on East Dorothy Lane for the installation of water services on the new water main, as well as roadway restoration. This phase of the project will impact East Dorothy Lane travel between Far Hills Avenue and Hathaway Road. Traffic will be impacted as follows on East Dorothy Lane:
The south lane (for east-bound travel) between Far Hills Avenue and Hathaway Road will be closed during the project. The north lane will facilitate east- and west-bound traffic.
Through traffic on Dorothy Lane will be reduced to one lane in both directions and will be maintained during construction.
Montgomery County anticipates this portion of the project to last up to three weeks.
Thank you.