Microenterprise Program
The City of Kettering's Microenterprise Loan Program features classes, networking, loans for micro-enterprises in our Ohio community. This program was developed in partnership with Kettering's Board of Community Relations, the Economic Development Department and the Community Development Division of the Planning and Development Department.
For more information, please contact Angela Rahman at [email protected] or 937-296-2524 or Amy Schrimpf at [email protected] or 937-296-3342.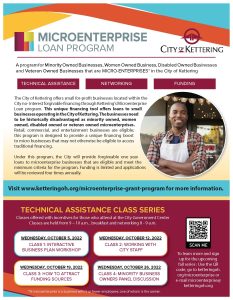 Register now for the fall training series. Women's Business Enterprises, Disabled Business Enterprises and Veteran-Owned Businesses in addition to the Minority Business Enterprises currently being served.