Kettering Sustainability Committee
Committee Overview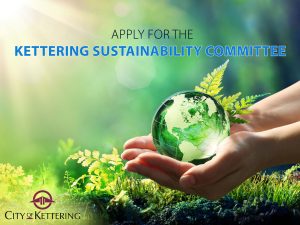 The City of Kettering is committed to incorporating environmentally sustainable practices and initiatives through active research, education, discussion with residents and business owners, and continuous review of emerging technology and best practices.
In response to a recent planning retreat, the Kettering City Council determined that sustainability is a priority issue. To facilitate the process of determining the direction and scope of projects recommended to City Leaders, the City of Kettering is seeking a team of dedicated volunteers willing to serve as an advisory body. The scope of the Sustainability Committee will include research, discussion, written communication, and advocacy.
Individuals interested in this committee should:
Be committed to providing two years of service to the committee. This includes availability to actively and regularly participate in monthly committee and subcommittee meetings at a time convenient to committee members.
Be willing to serve on a subcommittee group to investigate a specific topic or project.
Engage in respectful, open discussion of topics presented with the goal to find common ground for the benefit of the City of Kettering residents and business owners.
Application
To be considered for the Sustainability Committee, please answer all questions completely. Each application will be reviewed. If you are selected for an in-person interview, you will be contacted directly. Incomplete applications will not be considered.