Kettering Safety Village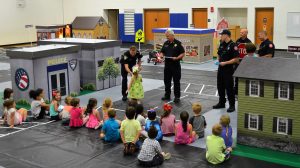 To teach basic concepts of traffic safety, to provide injury prevention awareness and life safety skills for children entering the kindergarten grade level.
About Safety Village
Kettering Safety Village is a week-long program sponsored by the Dor-Wood Optimist Club. The City of Kettering's Safety Section in collaboration with Kettering City Schools is proud to operate this program.  The program is designed to teach our youngest citizens how to be safe.
Safety Village instructors are joined by Kettering police, fire and school personnel to provide age-appropriate classroom instruction on a variety of safety topics to participants. Children get to practice and reinforce what they've learned at our indoor Safety Village, with child-size replicas of streets, intersections and buildings. Children also participate in a variety of additional activities, including a "Safe Walk" in a neighborhood.  Through classroom instruction and fun and exciting hands-on experience, young children will begin to develop safe habits for a lifetime.
2023 sessions
Location: Orchard Park Elementary School
2 sessions are available each week:
Time
8:00 am to 10:00am
& 10:30am to 12:30pm
June 5-9, 2023 $25
June 12-16, 2023 $25
June 20-23, 2023 $20 – This week is only 4 days due to the Juneteenth holiday. All safety content is covered.
Registration
Registration opens March 1, 2023 for residents and April 1, 2023 for non-residents. Register early, space is limited!
Questions contact Marc Rasor at marc.rasor@ketteringoh.org