Engineering Department
The Engineering Department is responsible for the programs of:
• Street Design and Construction
• Street Resurfacing
• Sidewalk and Bike Path Design and Construction
• Curb, Sidewalk, and Drive Approach Repair
• Storm Drainage Design and Construction
• Street Lighting
• Bridge Design and Construction
• Flood Protection
• Traffic Engineering
• Street and School Zone Safety
• Right of Way Permits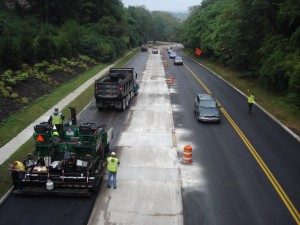 The Engineering Division coordinates Water and Sanitary Sewer Programs with Montgomery and/or Greene Counties, which are responsible for the water and sanitary sewer systems used by Kettering Residents.
Links to the county Water and Sanitary Engineering Departments:
Montgomery County Environmental Services,   Foundation Drain Disconnect Program, Montgomery County Water Services (Water in Basements)
Greene County, Ohio Sanitary Engineering Department
The Engineering Division manages the implementation of the Capital Improvement Program as it relates to streets, drainage, sidewalks, and bridges. Also, Engineering reviews land development plans and provides engineering, inspection, surveying and drafting support to other City departments, as well as processing requests for permits and information on house numbers, flood insurance, lot and plat data, and other service requests for citizens.  The Engineering Division also helps coordinate the maps created for various city needs.
Ohio Utilities Protection Service is the one-call service you should contact before you dig.  Calling before you dig is important not only for safety reasons, but also because IT'S THE LAW! By law, homeowners should contact O.U.P.S., 8-1-1 or 1-800-362-2764, at least 48 hours but no more than 10 working days (excluding weekends and legal holidays) or enter it online with e-dig the easy online dig request for homeowners, before beginning any digging project.
Some examples include:
• Landscaping
• Digging holes for fence posts or a mailbox
• Anchoring supports for decks and swings sets
• Planting trees
• Removing tree roots
• Driving landscaping stakes into the ground
• Installing a retainer wall
Remember, even if your digging project is small, it's always best to call! Please visit oups.org to learn more about the program.
City Engineer:
Steven E. Bergstresser, PE
(937) 296-2436
steven.bergstresser@ketteringoh.org
Kettering Engineering Department
3600 Shroyer Road
Kettering, OH 45429
(937) 296-2436